Apple iPhone X The Definitive Review
Introduction
The anniversary iPhone is here. The iPhone X. Or the iPhone 10. The name is as confusing as the product itself is game-changing. Tim Cook's vision finally overwhelmed Steve Jobs ideological remnants. A new dawn for the iPhones has begun, free of the iconic Home key and the notorious screen bezels.
These past ten years of iPhones has contributed a lot to the industry's development – the capacitive touchscreen, the glass design, the fingerprint scanner, the force press, the portrait mode. We've seen Apple push the envelope each time by putting obscure technological breakthroughs in the hands of millions. And now they've done it yet again.
The Face ID. Once a software gimmick, Apple has made it the next-step in biometric security. The company was so sure in its capabilities that it immediately retired the Touch ID. The Face ID sensor also made possible a new level of selfies and incredible accurate facial expression tracking with the Animojis. A little nudge capable of pushing the whole industry.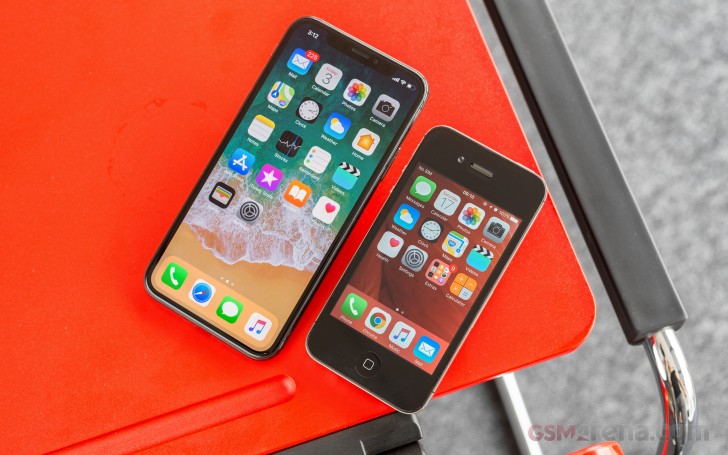 The iPhone X next to the iPhone 4s
And of course, the bezel-less screen. Dropping the huge bezels alone was enough, but Apple went all in with an all-screen for the iPhone X. Moreover, an AMOLED one, how about that?! Rightfully deserved, especially for a special edition smartphone such as the X. Or the 10. It takes time to get used to the sound of it. We're way more used to seeing the letter rather than the number when it comes to phone names through the years.
The iPhone X gets the best of everything Apple and its providers have had in the lab. A new AMOLED HDR screen. A new steel frame. A new camera with dual optical stabilization. The best chipset on the market. A new front camera with depth-detection. Wireless charging. All that at the expense of a little notch.
Apple iPhone X Plus key features
Body: Stainless steel frame, reinforced glass front, and rear, IP67 certified for water and dust resistance. Space Gray, and Silver color options.
Screen: 5.8″ bezel-less Super AMOLED screen of 1125 x 2436px resolution, 458ppi. HDR video support, wide color gamut. True Tone adjustment via a six-channel ambient light sensor, 3D Touch.
OS: Apple iOS 11
Chipset: Hexa-core (2 Monsoon + 4 Mistral) 2.39GHz Apple CPU, tri-core Apple GPU, Apple A11 Bionic SoC
Memory: 3GB of RAM; 64/256GB of internal storage (non-expandable)
Camera: Dual 12MP camera: wide-angle F/1.8 with OIS + telephoto F/2.4 with OIS, live bokeh effects (including Portrait mode and Portrait Lightning), 2x lossless zoom, quad-LED flash with slow sync, phase detection auto focus, wide color gamut capture
Video recording: 2160p@60/30fps, 1080p@30/60/120/240fps video recording
Selfie: 7MP F/2.2 front-facing camera with BSI sensor and HDR mode, 1080p@30fps video, depth detection for Portrait mode and animoji
Storage: 64GB or 256GB of built-in storage
Connectivity: 4G LTE Cat.12 (600Mbps); Wi-Fi a/b/g/n/ac; Bluetooth 5.0; Lightning port; GPS with A-GPS, GLONASS, GALILEO, QZSS; NFC (Apple, NFC tag reading)
Battery: 2,716mAh battery, wireless charging (Qi compatible)
Misc: Face ID through dedicated TrueDepth camera, Stereo speakers, Taptic Engine
Main shortcomings
The notch not only is an eye sore but it has affected the UI design in unexpected ways
Gone is the excellent TouchID fingerprint sensor
No 3.5mm audio jack (ships with a Lightning-to-3.5mm adapter)
No memory expansion via a microSD
iTunes dependency for uploading content
No fast charger provided in the box (and the optional one is expensive)
Video camera still recording mono audio only
iOS doesn't seem to make the best use of the available screen real estate or doesn't do a great job of replacing the Home button
Some say the iPhone X screen is a notch bigger than the iPhone 8's and they aren't far away from the truth. And the notch itself may be annoyingly obvious at times, for sure. But it's not the name you have to remember, but the new iOS gestures with a steep learning curve and questionable logic.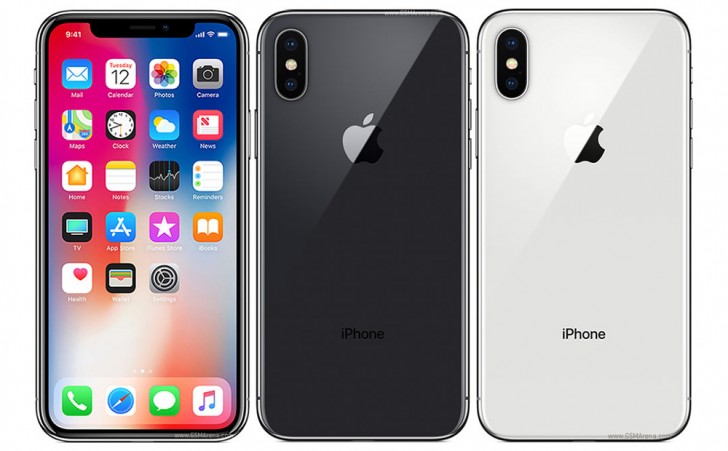 The history does not only remember Apple for its technological pushes, but also for some aggressive, ahead-of-the-curve cuts such as the analog jack, the memory expansion, and the non-removable battery to name a few. And now, the fingerprint sensor.
Exit iPhone 8, enter iPhone X. It's time to see what Apple worked on in complete secrecy this past year. As we're bidding farewell to a cherished past, what does the future hold for us? Let's meet the X.
Apple iPhone X retail package
The iPhone X's retail box gets no special treatment – it's like the ones to come before it. Inside you'll find a sluggish 5W charger, a Lightning cable, a pair of EarPods, and a Lighting-to-Analogue adapter. Oh, and there are a few Apple stickers inside, in case you were wondering.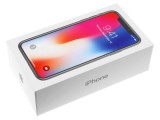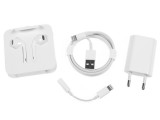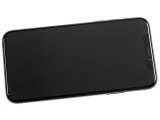 The retail box • the contents • the iPhone X
Apple iPhone X 360-degree spin
The iPhone X measures 143.6 x 70.9 x 7.7 mm – that's 5mm taller and a hair wider than the iPhone 8. On the other hand, the X is 5mm shorter than the Galaxy S8. The new iPhone is rather heavy at 174g – 26g more than the iPhone 8 and about 20g over the Galaxy S8.
Sizing up the X between the iPhone 8 and the 8 Plus is the best way to see what trimming those bezels have achieved. The X is pretty much as big as the iPhone 8 and way smaller than the Plus model.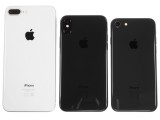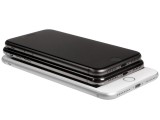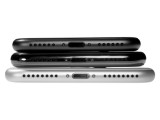 Apple iPhone X compared to the iPhone 8 and 8 Plus
Design
Four years in a row Apple has recycled, refreshed, reused, and reimagined the same design over and over again. Until the iPhone X, that is. But it won't be an iPhone without some controversy attached to it. So, is that really a complete redesign?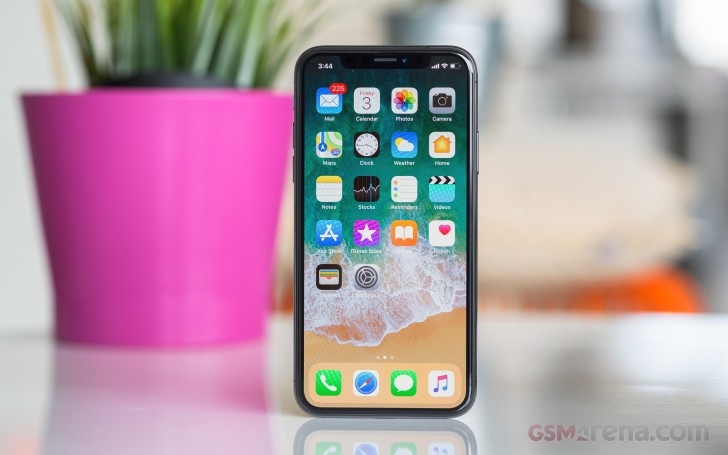 The all-screen front says yes. Look at that! It's a breath-taking view, eyesore notch or not. The bezel-less screen respectfully retires the iconic Home key, though the Touch ID is gone in the process too. But what we gained is a striking new AMOLED screen for the most immersive iPhone experience to date.
Flip the X, and you are at a familiar all-glass back. Apple has been opting for glass once again since the iPhone 8, and it has been a pleasure having that feeling again in our hands. It was Apple that made the glass phones a thing, and we are glad to be handling glass iPhones again even though the company was last to jump on this bandwagon.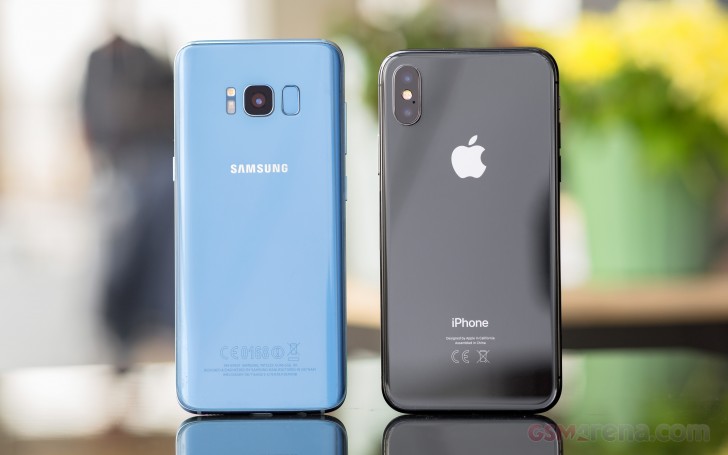 The back panel is clean and the bulging camera is the only thing to disturb the shiny glass surface. The camera lens module is now positioned vertically, and its looks are not our favorite. The new setup is bigger and thicker, and the surface around the lens is shinier which doesn't help its case either. We suppose the orientation had been more of an engineering decision rather than a design-related one, so this may be nitpicking. Still, we would have preferred it the old way.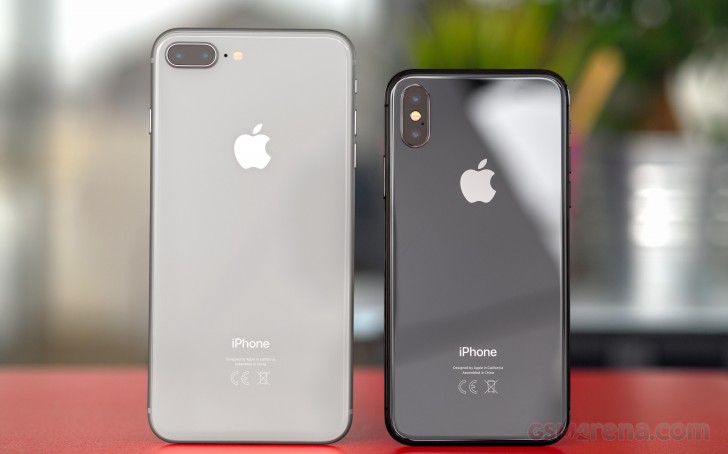 Then there is the frame that holds everything together, and now it's made of stainless steel. This frame has made the phone sturdier but also a lot heavier than the iPhone 8. The new high-gloss finish on the frame is also probably easier to scratch. But with all those fingerprint smudges all over it, you'll probably never notice the accumulated scrapes.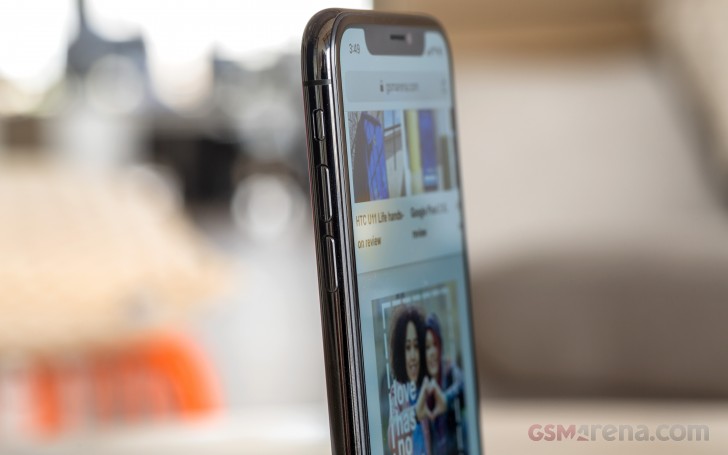 The frame isn't the only thing Apple reinforced better since the water-proofed iPhone 7 and 8. The screen has an additional rubber gasket between the frame and the screen glass, so it should absorb hits better and protect the AMOLED from breaking. And the screen glass itself isn't as curved as Samsung's, and Apple likes to advertise it as the toughest glass on the planet. Well, it may be tough, but it sure scratches rather easily, which is a bummer.
Now back top the screen. Apple likes to advertise the OLED as a 5.8″ unit, and that's technically true, but unlike the Galaxy S8, the iPhone X has the notch up there taking up some space. Throw some spare (white)space at the bottom of any app window to balance the notch visually, and you get pretty much the same active screen area as on the iPhone 8 and quite less than the 5.5-inch iPhone 8 Plus. These are software limitations which we'll talk about in a bit.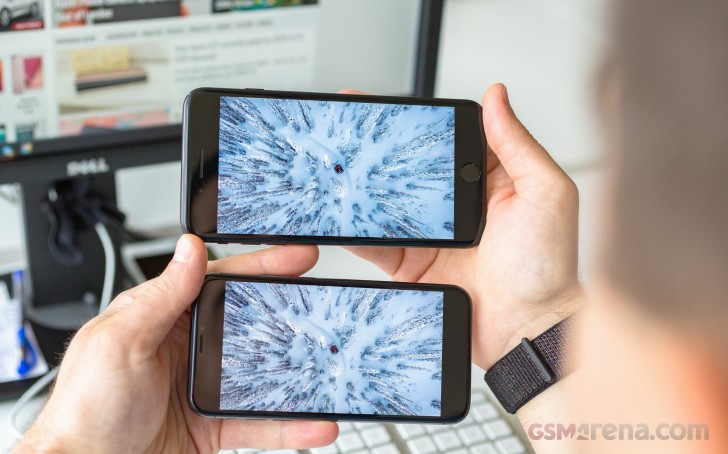 The iPhone X isn't that bigger than the iPhone 8 and that makes it one of the most comfortable phones right now. It sure tries to fit a big screen within a tiny body and is mostly successful, but the handling is where the iPhone X excels.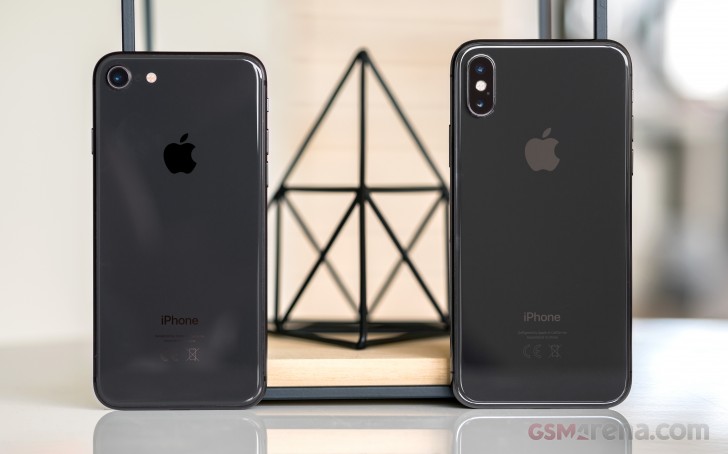 You can operate the X with just one hand all the time; you can reach anything anywhere on the screen. Yes, the phone is slippery, but due to the small form factor, the iPhone X is easily secured by your grip. The X was thoughtfully designed and is easily likable from both the iPhone and iPhone Plus fans.
And back to the very first question – is the X a complete redesign? Hardly. If it looks like an iPhone and feels like an iPhone, then it doesn't redefine the iPhone design as we know it.
The iPhone X has what it takes to push future Apple phones to the next level though. The all-screen front is enough to change the narrative and everything else (whether it's the new steel frame or the notch and oddly oriented camera hump) is a byproduct of the process of moving forward. We just wish the phone didn't feel so rough around the edges (figuratively speaking).
Apple iPhone X overview
The front of the iPhone X has changed the most. There is no Home key, it's all-screen you might say, if it wasn't for the notch. The notch is very crowded though – under that grille is the earpiece, which is also a speaker, and a built-in microphone. The selfie camera is around, too, and pretty hidden under the glass is a whole bunch of tech – infrared camera, flood illuminator, and dot projector – all the essentials for Face ID, proximity, and four-channel ambient light sensors.
The volume keys and the silent switch are on the left, while the power key and the SIM slot are on the right, as usual. The top is completely bare, while the bottom has the Lightning port and two dotted grilles – one for the mouthpiece, and another one for the second speaker.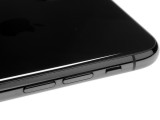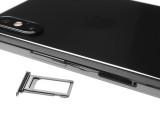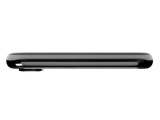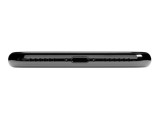 The keys on the right • the SIM slot on the left • the top • the bottom
The updated dual-camera is on the back, bulging more than ever. It houses the two camera sensors and the quad-LED flash. Somewhere beneath that glass back is the wireless charging coil.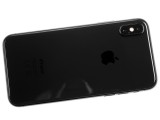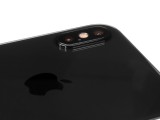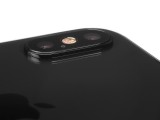 The glass back • the dual camera • camera hump
Display
The Apple iPhone X's most anticipated feature is, of course, the 5.8″ AMOLED screen with HDR video support and 1125 x 2436px resolution. The resulting pixel density is 458ppi – a flagship one for sure.
The screen has a rather unusual ratio of 19.5:9, taller even than Samsung's 18.5:9.
Looking at the AMOLED under a microscope revealed a very familiar Diamond PenTile matrix, the same we know from a bunch of Galaxies.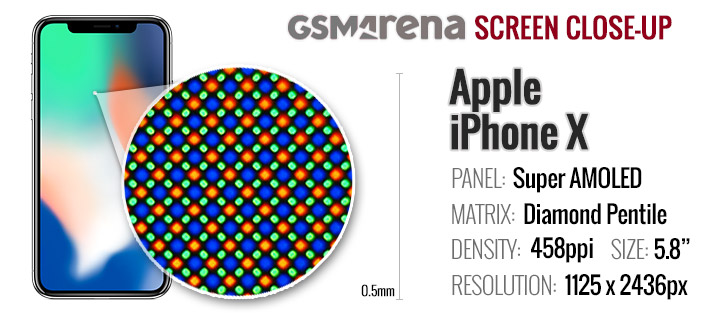 But before we continue with our screen tests, let's address the elephant in the room – the screen size. Apple claims the X has a 5.8″ screen… except it's not what you may imagine this to be. You can see on the official site that the 5.8″ measurement is for a rectangular screen while the X has rounded corners. But that's a minor quibble; the bigger issue is that there's a cutout at the top of the screen, which limits the usable area.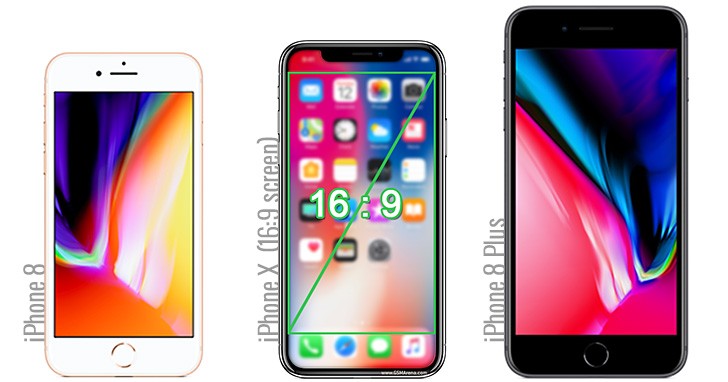 In fact, ignoring the top portion leaves a screen that's just about 18.5:9 in aspect ratio. If you were to show 16:9 content on it – the traditional widescreen format that all TV shows and YouTube videos use – you're left with what is effectively a 4.96″ screen. That's obviously bigger than the iPhone 8's but way smaller than the iPhone 8 Plus display.
Finally, if we do some math for the entire screen surface area, we'd end up with the fact that the iPhone 8 Plus has a marginally larger surface area than the iPhone X.
In short, the iPhone X offers a screen that's theoretically almost 5.8″ big, but in reality, it's as big as that of the 8 Plus, though content will have to fit with margins which make it feel more like the screen on the iPhone 8.
This aside, Apple's new AMOLED screen has HDR video support and is capable of True Tone adjustments. That's an automatic white balance correction enabled by a new six-channel ambient light sensor. Once turned on, the True Tone algorithm will correct the white balance according to the ambient light and thus make the picture more comfortable and easier on the eyes. That's completely different from the blue-light filter called Night Shift.
Apple promises a maximum brightness of 625 nits, and 1,000,000:1 contrast ratio. We measured 679 nits of brightness with the slider at the far right, which is even more than promised and quite possibly the brightest OLED screen we've seen.
Display test
100% brightness
Black, cd/m2
White, cd/m2
Contrast ratio
Apple iPhone X
0
679
∞
Apple iPhone 7 Plus
0.41
573
1398
Apple iPhone 7 Plus (max auto)
0.50
681
1362
Samsung Galaxy S8
0
440
∞
Samsung Galaxy S8 Max auto
0
618
∞
LG V30
0.002
414
207000
LG V30 (Max Auto)
0.032
616
19250
Nokia 8
0.382
703
1840
OnePlus 5
0
435
∞
Huawei Mate 10 Pro (normal)
0
422
∞
Huawei Mate 10 Pro (vivid)
0
440
∞
Huawei Mate 10 Pro (max auto vivid)
0
623
∞
Apple iPhone 8 (Standard)
0.399
566
1419
Apple iPhone 8 (Max Auto)
0.468
640
1368
Apple iPhone 8 Plus (Standard)
0.392
530
1352
Apple iPhone 8 Plus (Max Auto)
0.471
621
1318
The Apple iPhone X aced our sunlight legibility test and posted an excellent contrast ratio beating all other phones including all Samsung phones with AMOLED screens.
Sunlight contrast ratio
Apple iPhone X (Super AMOLED, 5.8″, 1125×2436 px): 

5.013

Samsung Galaxy S8 

(Super AMOLED, 5.8″, 1440×2960 px):

 

4.768

Nokia 8 

(IPS LCD, 5.3″, 1440×2560 px):

 

4.239

Huawei Mate 10 Pro (normal) 

(Super AMOLED, 6.0″, 1080×2160 px):

 

4.096

LG V30 

(POLED, 6.0″, 1440×2880 px):

 

4.022

OnePlus 5 

(Optic AMOLED, 5.5″, 1080×1920 px):

 

3.914

Apple iPhone 7 Plus 

(LED Backlit IPS LCD, 5.5″, 1080×1920 px):

 

3.588
As far as the iPhone X screen color accuracy is concerned, the screen offered one of the best in the business with an average DeltaE of 1.9 and a maximum deviation of 2.9. Few phones are as good or better than this (the iPhone 8 Plus being one of those). But the amazing thing is that the display gets to keep such level of accuracy even when you start lowering the brightness all the way down to 1.9 nits.
Battery life
The iPhone X is equipped with a non-removable Li-Po 2,716 mAh battery – about the same capacity as the iPhone 8 Plus. The Low-Power mode, which you can enable manually, should prolong your iPhone X battery life once the charge drops below 20%.
The iPhone X ships with a sluggish 5V/1A wall charger which will replenish only 20% of a dead battery in a 30-min charging session.
We also tested the iPhone X on a Qi-compatible Samsung wireless fast charger – it recharged 17% in 30 mins.
The phone supports fast charging through USB-C power delivery, you just need to buy the proper cable (USB-C-to-Lightning, $25), and use a compatible charger from a MacBook, Pixel 2, or even a USB-C port on a Mac or PC. This way you will be able to charge 45% of an empty battery in half an hour.
Perhaps the best way to get better charging speeds on the new iPhones remains using a 12W iPad charger. It's quite more reasonably priced than the 29W MacBook charger and it already comes with a Lighting cable included. It's only marginally slower than the MacBook charger because the iPhone can only charge with 15W of power at most.
Charging hurdles aside, the iPhone X posted balanced scores across the board – it can do about 19 hours of 3G calls, 9 and a half hours of web browsing on a single charge, or you can watch videos for about 12 hours. The standby endurance turned out above average and thus the very good endurance rating of 74 hours isn't a surprise.
The X scored similar scores in the 3G call and standby tests as the iPhone 8 Plus but lagged about 3 hours behind the 8 Plus in video playback and web browsing. This means the AMOLED screen is more power hungry than the LCD unit on the iPhone 8 Plus.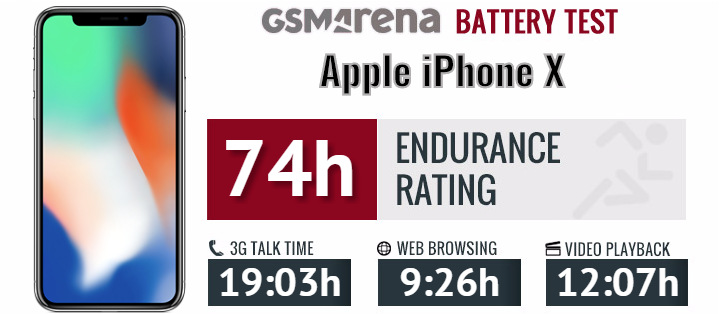 Our endurance rating denotes how long a single battery charge will last you if you use the Apple iPhone X for an hour each of telephony, web browsing, and video playback daily. We've established this usage pattern so our battery results are comparable across devices in the most common day-to-day tasks.
Connectivity
The Apple iPhone X support LTE Cat. 12 (up to 600Mbps down, 150Mbps up) and covers an impressively wide range of LTE bands. Regular 2G and 3G connectivity is all duly covered as well with a multitude of supported network bands.
The iPhone X also supports the latest Voice over LTE (VoLTE), HD Voice and Wi-Fi calling protocols, but those are carrier-dependent features.
Naturally, the latest Wi-Fi and Bluetooth 5 standards are supported as well.
There is also support for NFC and thanks to iOS 11's new Core NFC API, the reader's functionality works for NFC tag reading besides Apple Pay. The iPhone X supports reading any NDEF formatted tag but only within an app, which can read and take action. This last requirement makes us doubtful whether this also means the iPhones will now be able to make use of the NFC-assisted pairing to various wireless peripherals and accessories, which Android users have been enjoying for ages. Unfortunately, we didn't have one handy to try it out, but we'll update this section when we grab hold of more info.
The iPhone X uses a proprietary Lightning connector for wired data transfers, charging, and audio. There is limited USB Host support – you can attach some certified accessories or access your digital camera storage via proprietary adapters sold separately. You can pair a Bluetooth keyboard with the phone should you need this peripheral.
There is no 3.5mm audio jack on board the phone, but you can use the provided Lightning-to-3.5mm adapter to continue using your favorite pair of wired headphones with the iPhone. Or go for wireless headphones.
Apple iOS 11 on the iPhone X
The Apple iPhone X runs on the latest iOS 11. Now that there is no Home key this iOS version was exclusively tailored for the X with new gestures and functions. Other than that, it's the same iOS 11 that was announced back in June. It's not a major or redefining upgrade. Instead, it focuses on refining the design, adding new usability features, and introducing advanced machine learning.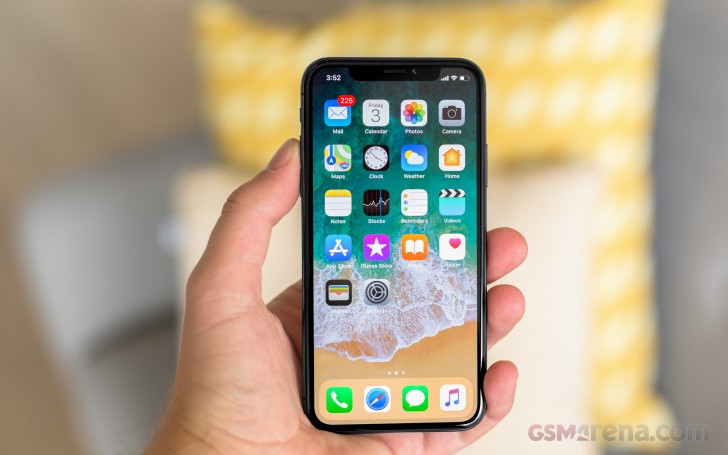 The departure of the Home key meant also retiring the Touch ID and replacing it with something else. And that's the Face ID. Apple managed to miniaturize the technology behind Microsoft's Kinect sensor and put it in the iPhone X for accurate faces recognition. The X can memorize only one face, which is somewhat a bummer, but other than that it works just as accurately and fool-proof as advertised.
It takes less than a minute to setup Face ID and then it works as fast as the first-gen Touch ID, meaning you unlock your phone in about a second. It recognized our faces with hats, long collars, and sunglasses. The integrated machine learning means it will know if you are growing a beard and adjust the data accordingly.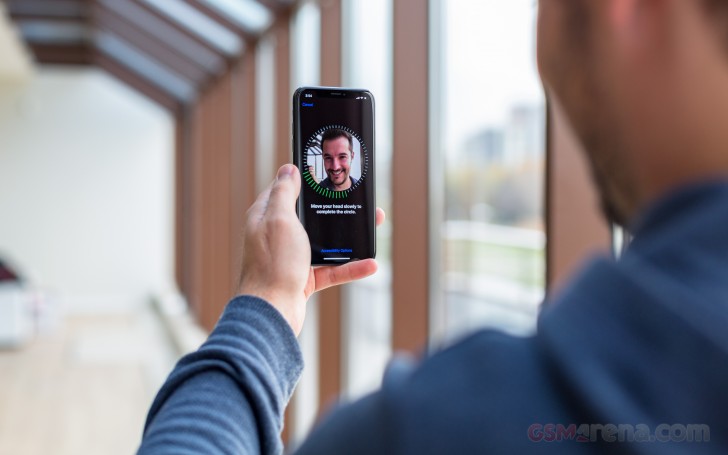 What bothered us is the swipe from the bottom to unlock upon successful Face ID verification. It would have been much better to swipe from anywhere rather than just the bottom. This often requires stretching your thumb and may eventually become annoying – it sure did for us.
The camera access from on lockscreen has changed, too. Now you have two shortcuts – flashlight and camera, but instead of a swipe, you need a force press. That's actually neat.
Naturally, apps go on the homescreen, there are no widgets and no separate app drawer either. With the new taller screen, you now have even more rows of apps. The leftmost Today page is here to stay – it is the place where various widgets go and includes a system-wide Spotlight search.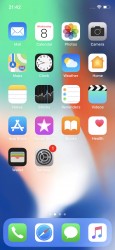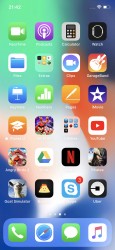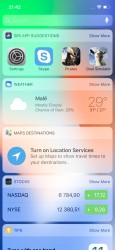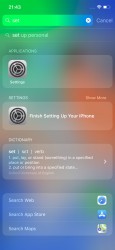 The homescreen • more apps • Today • Spotlight
Now that there is no Home key, Apple came up with a system-wide gesture for closing apps – a swipe from the bottom. Previously this would have brought up the Control Center with all the toggles, but now it brings the homescreen. This won't become a habit in an instant for sure.
So far, so good. But things go eerie from here.
How do you summon the task switcher then? Well, you start closing an app with that swipe from the bottom, and you stop halfway. Honestly, we couldn't have imagined this weirder. Apple could have used Force Touch in a new way unseen so far but it instead chose not to. They sure like to get rid of their own inventions.
Not only the task switcher has been made harder to summon, but you have to tap and hold on a card to activate the kill mode, and then swipe it to the oblivion. Again, no love for Force Touch here too.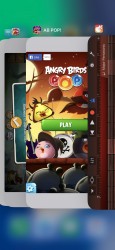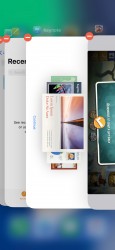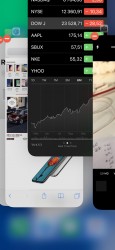 The task switcher • kill mode • closing an app
What about Siri? We are glad you asked. You press and hold the power key, which is now known as "the side button". To power off the phone, you press and hold the power key PLUS one of the volume keys. If you press the same combination but don't hold, well, you will take a screenshot.
The awkwardness continues with "the line" at the bottom of the display. After "the notch" and "the horns," we get another thing that will go down in history for better or worse. This line was invented to mark the closing gesture position. Wherever you see the line, that's where you need to swipe up from.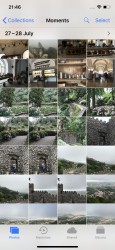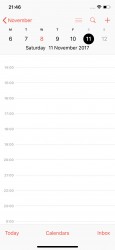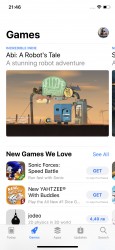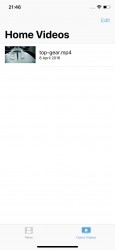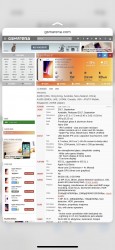 The line requires some extra space
But the line is not an overlay in most apps, but an extension. And that extension mirrors the notch. Yes, the whole interface just moves upwards to make place for "the line." It could have been easily a tiny overlay, even a dot, but Apple made another questionable design choice – this time with the UI – and pretty much put another notch at the bottom – only it's a virtual one this time around.
To be honest, the keyboard and some apps do need the extra space at the bottom for usability reasons. If the keyboard didn't have the bottom notch, it would have sat way too low for typing.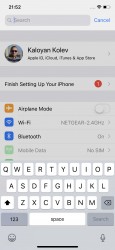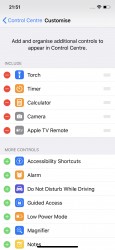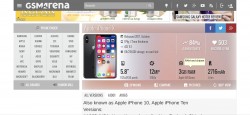 Sometimes the line can be for the better • and sometimes it doesn't require more space
So, the bottom notch with the line may not be the most thoughtful decisions, but there is a bonus feature. You can swipe left or right on or around the line, and you'll quickly switch between active tasks. Previously this was done with force swipes, but now it's much easier.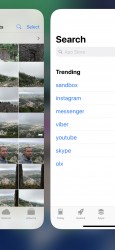 Switching between apps is easy – just swipe on the line
Now about those horns – the areas on the left and right of the notch. Apple tucked there all the things from the status bar – the clock, network info, connectivity, and battery indicators. There was no room left for Bluetooth indicator, or even the battery percentage, though.
We found the horns to be way more inconspicuous if you choose a wallpaper with a dark upper part. It turned out there are already apps which can add the black part on your wallpapers of choice. Before we found that out, we photoshopped some of the stock wallpapers and we really liked the result.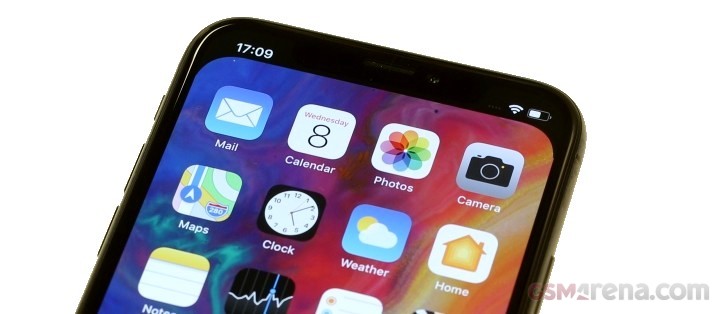 The Notification Center, or what's left of it in iOS 11, is summoned with a swipe from the left horn, but the gesture also works from the notch, too. The pane was recently unified with the lockscreen, and if you use different wallpapers for home and lock screens, you may get confused at first.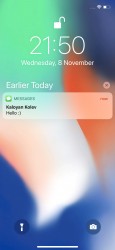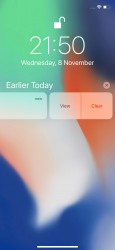 Notification Center • Notification Center • Notification settings
The Control Center with all your toggles (now configurable by the way), is called with a swipe from the right horn. You can use 3D touch to access additional controls. And the battery percentage has been moved permanently here (Windows Phone says hello).
And while we are deep in the weird iOS changes, let's mention that a tap on Wi-Fi or Bluetooth severs all connections, but it doesn't turn off these features. According to Apple this way you will keep AirDrop active and yet won't be connected to anything until the next morning (or until you manually initiate the connection). That's fine, but now we have to dig in settings to turn those off when we really need to, which is a step backward. If only Apple had some additional layer of interaction to make those toggles two-step triggers. Like a longer press or 3D Touch. Oh, wait!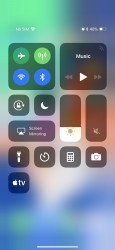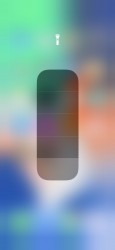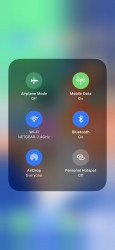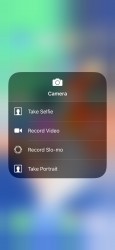 The Control Center • Expandable torch • Expandable toggles
Using the iPhone X in landscape direction adds more points for weirdness. The line shows the bottom, but now that there are no horns, you just have to guess where the notification center gesture ends and the control center one begins. It's not that hard, but odd it is.
And speaking of landscape view, the two-pane layout seen on the iPhone Plus models is absent, as is the landscape mode for the home and lock screens. And you would think that a tall screen like this would be a perfect fit for this sort of two-pane UI.
We criticized Apple for finding better uses for 3D Touch on the all-screen iPhone X, but even without new features, it's still as useful as before. In this iteration, you can use it on various app icons to reveal quick actions and favorite rows, if available. You can also use it for notifications, toggles, and in-app content pop-up or expansion (pictures, links, file descriptions, etc.). You can also use 3D Touch on folders to rename them or see the apps inside that have pending notifications.
Naturally, a pop-up preview of pictures, web links, messages, mails, notes, and photos, is available.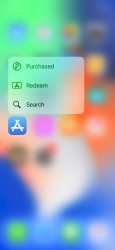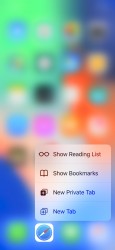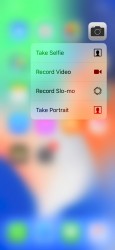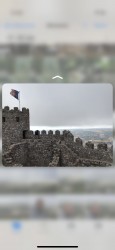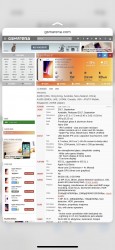 Using 3D Touch • pop-up • pop-up • media preview • link preview
Siri – Apple's digital assistant – is used by 375 million people monthly. But that was old Siri, the new one is much, much smarter. And it sounds smarter too, thanks to deep learning, Apple has created a more humanly sounding female voice, and there's a male voice, too. For example, Siri can pronounce the same word differently, matching natural pronunciation of a sentence.
Siri looks different now. The new UI is better at question-and-answer conversations and shows multiple results by default. It understands context, so it will suggest creating an appointment based on what web page you just bookmarked in Safari. It will also suggest new topics you may be interested in, based on what you're reading. This learning will be synced across all your devices, so they improve together.
Siri can also do translations for you. You can speak to it in English, and it will translate that to Chinese, French, German, Italian or Spanish.
Finally, you can now type to Siri instead of speaking, which is a very welcome option. The option is buried in the Accessibility settings menu though, in case you were wondering.
Now, we want to highlight some of the iOS 11 features.
Screen recording is a new toggle in the Control Center and does exactly what its name suggests.
But the newly implemented screenshot editor is probably the most obvious addition – once you grab a screen snap, you can now immediately doodle on it.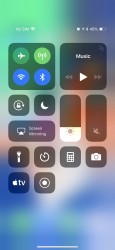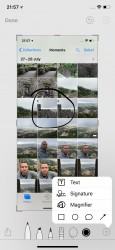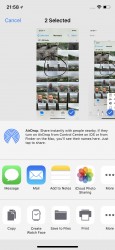 Recording key in CC • Editing a screenshot • Sharing a screenshot
The App Store is a cornerstone of the iOS experience. It's turning nine this year and has served 180 billion downloads over its exciting life. And according to Apple, it has paid out $70 billion to app developers (30% of which just in the last year). So, it's a huge business.
To better highlight developer creations, the App Store is now split into two – Apps and Games. The Games tab will list in-app purchases below the game (great for consumers, makes pay-to-play games easy to spot). There's also a new Today tab, which highlights Apple's favorite apps and games and their developers.
And while we are on topic, you can now enable app offloading – your iPhone will automatically delete unused apps to free some storage, and will mark such with a small cloud icon. Once you need such an app, it will be instantly downloaded from the App Store. Just like the offloaded images from the gallery.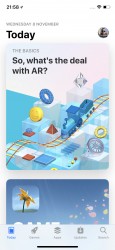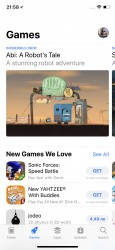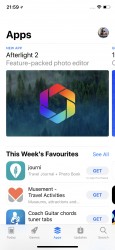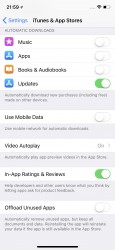 The App Store • Apps • Games • Offloading settings
Another new feature found in iOS 11 is Emergency SOS, which hopefully you will never need. You can either hit the power key five times or trigger it from a new menu invoked by holding the lock and some of the volume keys. Then your phone will dial your emergency contacts in a pre-defined order.
The iOS 11 is fast, has some thoughtful additions and has seen some long overdue updates. But the iPhone X-tailored version is a mess. Lots of the new gestures could have been done better – the line, the horns, the notch were all treated like last-minute obstacles instead of getting the smart solutions Apple is capable of.
Throughout years Apple made a name of itself with the meticulous attention to detail, but the X's iOS 11 is the most rushed software we've seen from Cupertino ever. And the worst part – anyone can tell it, iOS user or not. This is not how you treat your special anniversary iPhone and not a good harbinger for a new beginning.
Apple A11 Bionic performance
It can't be a new generation of iPhones without a new Apple chip, and this year the custom silicon is called A11 Bionic. Apple has moved from a quad-core processor up to a six-core one with a first-ever Apple-designed GPU (previous chipsets used GPUs by PowerVR). There are 3GB of RAM inside the Apple iPhone X.
The A11 Bionic chip features two high-powered 2.39GHz Monsoon cores that are 25% more powerful than the 2.34GHz Hurricane ones in the A10 Fusion. The four Mistral cores are power efficient and are 75% faster than the two low-power Zephyr cores in the A10 Fusion. All those six cores can run simultaneously.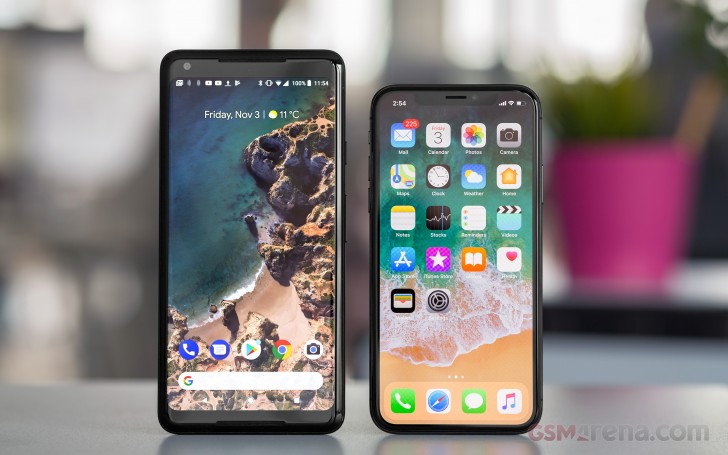 The GPU is the first Apple-made one and is comprised of 3 cores, promising 30% faster performance when compared to the GPU inside the A10 Fusion.
The new A11 chip uses a high-end 10nm manufacturing process, as opposed to the 16nm A10. It makes it smaller, more powerful, more efficient and yet cooler.
The A11 Bionic also packs a dual-core Neural Engine – a purpose-built neural processor. It should provide hardware acceleration for AI machine learning. Machine learning allows the system to improve its performance in complex tasks over time without specific additional programming.
Relying on machine learning the iPhone gets enhanced and speeds up complex tasks such as face and image recognition multiple times.
Now that we got all the technicalities out of the way – it's time we run some benchmarks.
Apple has been acing the Geekbench test with the new A11 chip, and the iPhone X is no exception. While a single Hurricane core (iPhone 7) is still impossible to beat, the new Monsoon core just blows away all other competitors by a mile. Single-core operations are of utmost importance for the performance of any mobile OS, and Apple has been the ruler of this domain for quite some time.
Moving to its hardware design was probably one of the smartest decisions Apple has made after the iPhone itself, and it has paid off throughout the last few years with great success. The prowess of the A11 is undeniable, and our battery test confirms it's very power efficient.
In real life, our experience just confirms what the synthetic benchmarks suggested – butter-smooth performance everywhere – system, apps, games, multi-tasking. Everything runs hiccup-free on the iPhone X, and the phone manages to stay mostly cool in spite of the glass design.
Telephony
The iOS 11 Phone and Contacts apps look almost the same as before utilizing a clean interface but with now stylized titles. You can force press around for some quick actions. Blacklist is available for those needing this feature.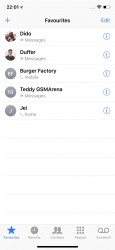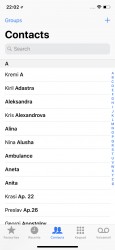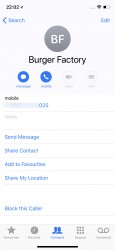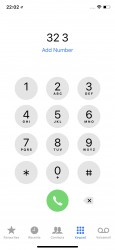 The phone app with Favorites • phonebook • a contact • the dialer
FaceTime is naturally available for all compatible iOS and Mac devices and allows you to make free voice and video calls to any other FaceTime-enabled device. It now supports capturing a Live Photo from the stream in those video calls.
Apple is also offering Wi-Fi calling. If your carrier supports it, your phone can be set to automatically place calls over Wi-Fi whenever you prefer. Some carriers won't even count the talk time generated over Wi-Fi against your monthly allowance.
Speakers
As usual, we've tested the new stereo loudspeaker setup performance of the iPhone X. The iPhone X turned out among the loudest iPhones to date, though the 8th generation was a bit louder. The X's two speakers have balanced loudness with crisp and clear sound quality. They posted a Very Good score on our test, but our subjective opinion is that their sound quality is better than the speakers on the iPhone 8's with sound being even richer.
| | | | | |
| --- | --- | --- | --- | --- |
| Speakerphone test | Voice, dB | Pink noise/ Music, dB | Ringing phone, dB | Overall score |
| Apple iPhone 6s Plus | 65.8 | 65.1 | 64.6 | Below Average |
| Sony Xperia XZ1 Compact | 66.4 | 70.9 | 68.4 | Average |
| Samsung Galaxy Note8 | 67.8 | 69.5 | 71.5 | Good |
| Samsung Galaxy S8 | 66.2 | 70.5 | 72.5 | Good |
| Apple iPhone 7 Plus | 68.3 | 72.2 | 72.9 | Good |
| Apple iPhone 7 | 67.6 | 73.2 | 75.7 | Good |
| Apple iPhone X | 68.9 | 74.0 | 76.2 | Very Good |
| LG V30 | 66.9 | 72.3 | 84.5 | Very Good |
| Apple iPhone 8 Plus | 76.0 | 74.6 | 79.0 | Excellent |
| Apple iPhone 8 | 71.7 | 77.8 | 80.3 | Excellent |
| Nokia 8 | 88.0 | 77.1 | 81.4 | Excellent |
Messaging with Animojis
Apple's Messenger looks pretty much the same as last year – it's highly customizable with bubble animations, stickers, handwriting, various screen effects and newly added full-screen effects. Digital Touch is still available. The new Animojis will arrive with the iPhone X though the iPhone 8 and earlier will be able only to receive such.
Thanks to the detailed face scanning, Apple came up with what it hopes to become one of the iPhone X top features – the Animojis. Now the cute faces you use instead of punctuation have a life of their own as they mimic your facial expressions. You can send a 10s animated message with your voice and expression through iMessage. Any iOS11 iPhone would be able to receive them.
The Animoji templates are just a few for now, but if third-party developers such as Disney hop on the Animojis, they may as well become the next big thing for the Apple Messenger. And you can save Animojis as video files (full-length ones come out up to 2MB filesize) and then send them through other IMs or upload them to Facebook.
Notable default apps
With every newly activated iPhone, you also get the complete iWorks suite including Pages (viewing, editing docs), Numbers (viewing, editing excel files), and Keynote (viewing, editing presentations).
Apps such as Calendar, Weather, Calculator and Alarm (now with repeating reminders) are available, naturally. Not that due to some bug with the key animations in the Calculator, it sometimes fails to detect hits on the operation buttons if you are typing too fast. Yes, Apple managed to break the Calculator, so you either type slow or find another app in the Store.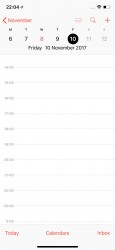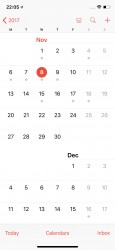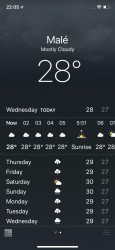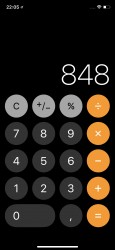 Calendar • Calendar • Weather • Calculator
The Notes app has everything from before like sketching, checklists, different formatting with bullets and lists, inserting multimedia, among others. With iOS 11 it was upgraded with table support and a document scanner – you can use the camera to insert scans in your iPhone notes.
There are two new apps coming with iOS 11 – Files and Clips. The new Files app finally brings basic file management to iOS. Don't get too excited though – it can browse and work with files from iCloud Drive and other cloud storages such as OneDrive, Dropbox and Google Drive – if configured. It also has its storage space where you can save files from different apps and then access them from Files. It's not a full-blown file manager for all on-device files, but more of a unifying app that at least finally gives you access to iCloud Drive via third-party apps.
Clips is another new app and it's very cool – it helps you make fun videos easily. You can add texts, effects, graphics, audio, and more. Clips also supports easy sharing, so your friends could see your creations in an instant. The app will also support 360-degree clips with the new iPhone X that's coming in November.
Apple Maps is getting better, too. Apple Maps now has lane guidance (finally!), and it shows the speed limit. Indoor navigation is available for malls and airports, with the floor by floor directory and search (initial support will be for big US cities and a few foreign ones).
The TomTom-powered Maps keeps its previous features such as layers, third-party extensions such as Lyft and Uber, traffic and public transportations, among many others.
Photos
Photos is a very easy to use gallery app with support for various automatic (places, faces, etc.) and custom albums, camera roll, and even recently deleted the section.
The automatic sorting in Memories, which scans your photos and sorts them in automatic albums by landmarks, animals, people, topics, and various other criteria, is available, too and should be much faster now with hardware accelerated machine learning. Each new Memory gets an automatically created Video Memory, which you can edit anytime. You can add or remove pictures or clips, change the background music and the stitching effects.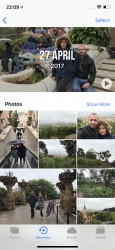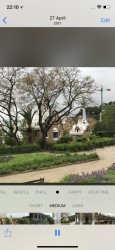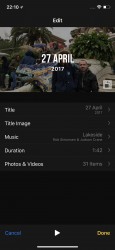 Memories • A Memory • Viewing and editing a Memory
The Photos app in iOS 11 brings some new features such as easy Watch Face creation. A new menu row also gives you the ability to choose different Live Photo effects – Live, Loop, Bounce, and Long Exposure. The same menu has a new Related row where thanks to the new machine learning you will see similar or related pictures.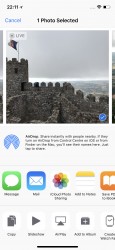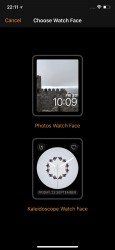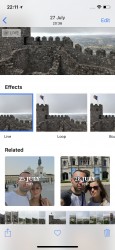 Watch Face creation • Watch Face creation • Live Effects • Live Effects • Applied effect
The gallery also offers some rich editing skills.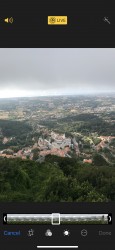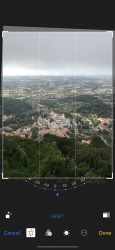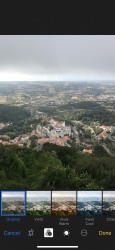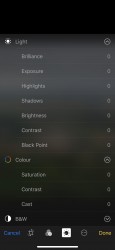 The edits apply to both the picture and the Live Image
You can also search in Photos by names, places, months, or similar.
Limited video player
Unfortunately, this is yet another iOS update which fails to do anything about the video player. You can upload only supported formats via iTunes or purchase videos from the iTunes store. This is an extremely disappointing showing by a platform that is supposed to excel at multimedia consumption.
The lack of extra functionality is bad enough but having to use just an extremely limited number of media formats or resorting to converting files, which is both slow and inconvenient, is a real deal-breaker.
Music app
The Music app relies heavily on Apple Music service and has five tabs – Library, For You, Browse, Radio, and Search. You can edit the Library's section if you like.
The 'For You' section shows music based on your listening history, likes, as well as the genres and artists you had previously chosen when you first launched the app. Browse helps you make your way through one of the richest song collection in the world.
Finally, the Radio tab has the Beats 1 radio, which is available 24/7 and the tracks there are chosen by real DJs, not machine algorithms. There are quite a few other stations available already, including programs created automatically by Apple. This section is available even if you don't subscribe to Apple Music.
The Now Playing screen also comes with lyrics support.
The Music app can do without Apple Music, don't you worry. You just need to add your music collection through iTunes, and you are good to go. And while many people are suspicious about the Apple's player, it is a very easy process, and they shouldn't be afraid.
Stellar audio output
The iPhone X shares a lot of its internals with the iPhone 8 and iPhone 8 Plus, but the bits and pieces related to audio output are seemingly different. It's been a while since an iPhone was among the best audio devices in the market, but the iPhone X manages to pull that off.
Clarity with an active external amplifier is excellent and there's basically unnoticeable degradation when headphones come into play. And this time around loudness is excellent too – easily among the loudest flagship out there, if not quite on top of the pile.
All in all, any audiophile looking to get an iPhone these days should look no further than the X.
| | | | | | | |
| --- | --- | --- | --- | --- | --- | --- |
| Test | Frequency response | Noise level | Dynamic range | THD | IMD + Noise | Stereo crosstalk |
| Apple iPhone X | +0.01, -0.07 | -93.7 | 93.3 | 0.0018 | 0.0075 | -82.8 |
| Apple iPhone X (headphones attached) | +0.02, -0.07 | -93.7 | 93.4 | 0.0017 | 0.013 | -76.3 |
| Apple iPhone 7 | +0.06, -0.10 | -92.4 | 92.3 | 0.0015 | 0.0093 | -80.9 |
| Apple iPhone 7 (headphones attached) | +0.03, -0.11 | -92.3 | 92.3 | 0.0011 | 0.012 | -77.0 |
| Google Pixel 2 | +0.01, -0.04 | -93.3 | 93.3 | 0.0010 | 0.115 | -66.2 |
| Google Pixel 2 (headphones) | +0.02, -0.03 | -93.2 | 93.2 | 0.0020 | 0.115 | -64.5 |
| Samsung Galaxy S8 | +0.04, -0.00 | -92.5 | 92.5 | 0.0016 | 0.0072 | -92.8 |
| Samsung Galaxy S8 (headphones attached) | +0.03, -0.03 | -92.3 | 92.3 | 0.0056 | 0.060 | -77.2 |
| LG G6 | +0.01, -0.02 | -93.3 | 93.3 | 0.0059 | 0.0095 | -94.4 |
| LG G6 (headphones attached) | +0.01, -0.02 | -93.4 | 93.4 | 0.0067 | 0.020 | -56.3 |
| Huawei P10 | +0.01, -0.04 | -93.0 | 94.8 | 0.0019 | 0.0080 | -93.5 |
| Huawei P10 (headphones attached) | +0.25, -0.02 | -92.7 | 93.0 | 0.192 | 0.175 | -59.5 |
| Xiaomi Mi 6 | +0.01, -0.02 | -94.3 | 94.3 | 0.0039 | 0.0068 | -90.9 |
| Xiaomi Mi 6 (headphones attached) | +0.08, -0.03 | -93.9 | 93.8 | 0.011 | 0.110 | -68.1 |
| OnePlus 5 | +0.03, -0.01 | -94.1 | 94.1 | 0.0010 | 0.0070 | -94.2 |
| OnePlus 5 (headphones) | +0.15, -0.08 | -94.0 | 94.0 | 0.0033 | 0.139 | -59.9 |
| HTC U11 | +0.05, -0.11 | -94.1 | 94.1 | 0.0017 | 0.0067 | -94.5 |
| HTC U11 (headphones) | +0.05, -0.02 | -93.7 | 93.8 | 0.0018 | 0.105 | -53.7 |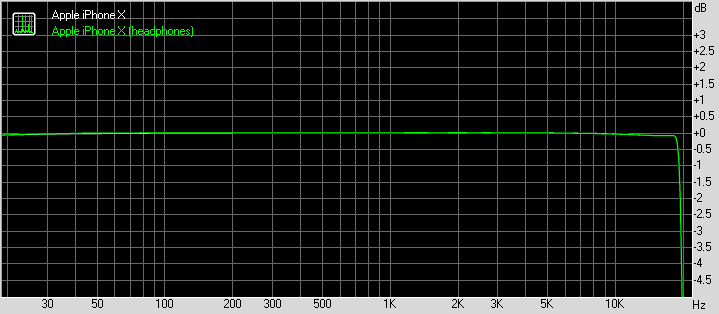 Apple iPhone X frequency response